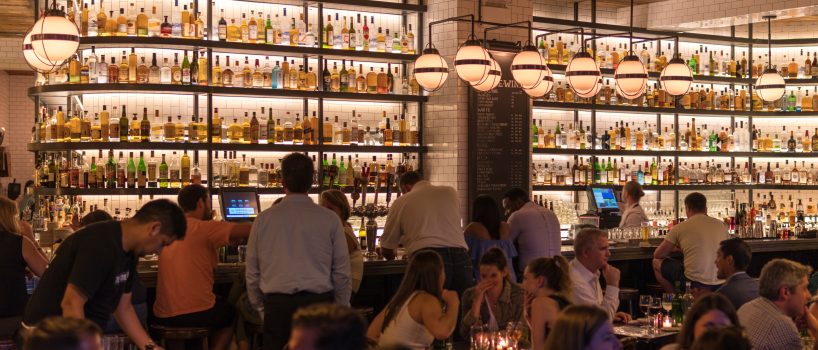 8 Tips to Improve Sales in Your Bar or Restaurant
Maintaining restaurant and bar sales in what looks like an impending recession, stiff competition and ever-changing trends has become more difficult for the industry in recent years. That's why it's now more important than ever for bar and restaurant owners around the world to practice tactics that will help them increase sales by finding a balance between keeping existing customers and acquiring new ones. We've listed some ideas below that you might want to try – if you didn't already.
1. Design changes
Redesigning a restaurant can be expensive, especially for smaller business owners. However, there is always the possibility of making small changes here and there to improve the look of the restaurant.
For example, adding a TV can open up new possibilities for a certain audience segment (such as broadcasting different sporting events).
The installation of a projector allows the organization of various events such as Quizzes, or they can be used for corporate events, based on renting a room for this purpose.
Changing the lights and fixtures could also help improve the atmosphere.
Making changes to the aesthetics of the venue can also drive traffic, because older patrons will come to see how the place has changed and new customers might also come through the door to see the "new location".
2. List unique menu items such as the restaurant's specialties
Menu items that are unique to your venue can have the potential to become your biggest source of income. These unique (and delicious) products have the opportunity to convert new customers into regular customers and drive higher prices and profitability. These can be "specialties of the venue" or "chef's recommendations". There is no need for many products of this kind, but it is important to differentiate your place from the others on the market with unique and very tasty products.
3. Optimize your menu
According to statistics, an effective menu redesign can increase profits by more than 15%.
What would be the most effective optimizations? We list a few below:
Highlight the most profitable products in the menu. Don't let them get lost among the less profitable ones.
Don't emphasize the price of the products in the design – highlight the name and description to discourage making decisions based on price.
Always keep menu items that are easy to prepare.
Keep items prepared with the same ingredients for efficiency and minimizing wastage.
4. Be present on social media
And don't neglect investing in advertisements either. Because social media is a very good way to promote your venue.
It's important to continually reach out to new customers, but it's just as important to keep communications open with loyal customers as well.
5. Train your staff to recommend the most popular products
If certain products are already a hit with some customers, actively encourage your staff to recommend these items. The team is in direct contact with the guests, so they can be your best marketing tool.
6. Encourage loyal customers to come back more often
You can offer different benefits to keep customers loyal to the venue. According to a study, after 3 visits, a new customer has a 75% chance of becoming a loyal guest. You can encourage this by handing out vouchers with a free meal after 3 visits, for example.
7. Emphasize drinks and desserts
Don't leave drinks and desserts to chance. Organize the team to actively recommend these products and highlight them on the menu as well.
8. Improve internal promotions
Encourage customers who regularly dine at your restaurant to order online by offering them a coupon code for their first purchase.
Motivate delivery customers to make reservations by sending them an email with an upgrade, such as a free drink when they come to the restaurant in person.
Conclusions
Running a bar or restaurant was difficult even before the outbreak of COVID-19. Profitability is essential for all businesses, so it is important to make an effort to improve your bottom line. We hope some of these ideas help you increase your sales – or maybe influence you to try something else.
Only one out of ten bars or restaurants in a row is doing well, while the others are empty or half-empty, and that means only the best will survive. Make sure you're one of them.
Enjoyed this article? Head on over to our Resources section for more articles on bar and inventory management.
---
Why not give BarKontrol a try?
Looking to improve the way you take physical inventory in your bar? Why not give the BarKontrol app a try?